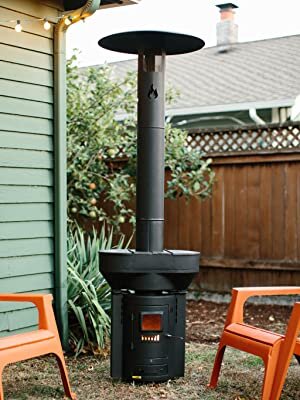 patio heater
Setup Area: (24in W) X (24in L) X (75in H)




We've got your backyard covered year-round with the NEW Pellet Fueled Patio Heater. Heat up your backyard patio, local tailgate and all other outdoor gatherings with the heater designed to provide heat from your toes to your nose. The Pellet Patio Heater out-performs traditional Propane Heaters by providing more heat fueled by hardwood pellets, saving up to 75% of the average fuel cost of the traditional propane units. The Pellet Fueled Patio Heater can be adjusted between high and low settings providing the perfect warmth solution for any outdoor setting. The Even Embers Pellet Patio Heater requires no cords, no auger and an easy ash clean out system for a quick and easy cleanup process. Sit back and relax with the enclosed flame for the perfect campfire ambiance with the Pellet Patio Heater.
(No Wood Pellets Come with Rental)
(Warning: for Outdoor Use Only)
How far away should items be from the Heater?
Minimum distance should be at least 3 feet; according to code. We advise that you and your party use good judgment and keep all dangerous or flammable items away period.